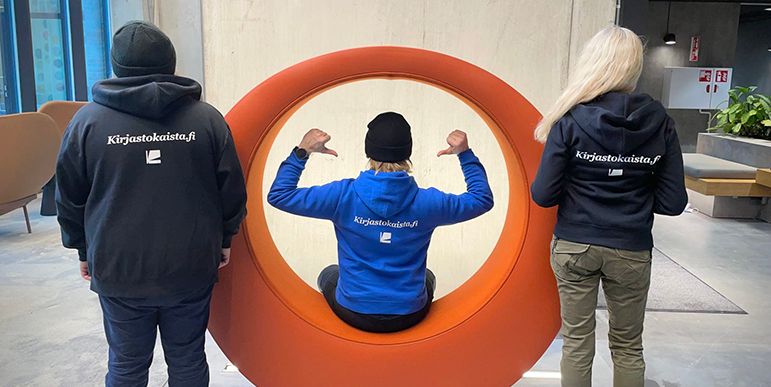 General info
Library Channel (Kirjastokaista) is a part of Libraries.fi (Kirjastot.fi), which is a gateway to all library services in Finland. In Library Channel you will find videos about books, authors and libraries as well as its services. Library Channel participates in advancing reading, promoting and marketing the library's services and current themes with its videos. In addition, Library Channel acts as an educational channel, e.g. for library professionals and students.
You can share and embed our videos to different sites or blogs and show them in an event or as a part of a lesson in Finland or abroad. The videos don't have a limited release time, you are able to watch and listen to them without any limitations. All materials produced by Library Channel are licensed with a Creative Commons license (CC BY-NC-SA).

Technical info
Librarychannel.fi-site has been created using WordPress. Library Channel uses Vimeo to upload its videos and SoundCloud to upload its audio from where they'll be imported to the librarychannel.fi-site. So you can also watch Library Channel's videos on Vimeo and listen to audio in SoundCloud. Library Channel also has a YouTube-channel where you'll find a small, selected collection of its videos.

Library Channel live-streams events as multi-camera productions and uses Vimeo as broadcasting platform. From Vimeo we can embed the videowindow into different sites. For example we stream to Facebook and Youtube if needed.
All the videos are available in SD-, HD- and Mobile formats and you can view them in almost every device that can play Flash- or HTML5-videos.

Crew
Library Channel has three full-time employees and an editorial board that meets twice a year. The board's purpose is to promote synergy between different operators.
Library Channel crew
Riitta Taarasti: Editor and Producer
Joonas Nevalainen: Video Production
Mikko Helander: Video Production
Panu Somerma: Video Production (part-time)

Library Channel's extended crew
Anna-Maria Malm, Libraries.fi: Translator and Assistant Editor for productions in Swedish
Harri Oksanen, Libraries.fi: Graphic Designer

Library Channel's editorial board members
Susanne Ahlroth, Senior Library Advisor, Regional State Administrative Agencies
Mikko Helander, Video Production, Library Channel – Libraries.fi
Niina Holm, Informaticist, Helsinki City Library
Pauliina Isomäki, Lecturer, Turku University of Applied Sciences
Päivikki Karhula, Chief Information specialist, Library of Parliament
Teemu Kokkonen, IT Designer, National Library of Finland
Joonas Kolehmainen, Producer, National Library of Finland
Päivi Litmanen-Peitsala, Communications Planner, Libraries.fi
Heikki Marjomaa, mediaohjaaja, Asikkala library
Joonas Nevalainen, Video Production, Library Channel – Libraries.fi
Riikka Rajala, Organisational Secretary, Finnish Library Association
Sari Siekkinen, Producer, Yle Entertainment & Culture
Minna Suikka, Information Specialist, Helsinki University Library
Riitta Taarasti, Editor and Producer, Library Channel – Libraries.fi
Riitta Vivolin-Karén, Producer, The Sign-Language Library

Background
Everything started with the Kirjastokanava-project which was initially started together with Kuntakanava (currently Kunta.TV) on the 10th of january 2009. The first user interface was published 11.12.2009 and the first videos were mainly interviews of authors and book presentations of newly published books. Interviews were made by editors Seppo Toivonen, Karo Hämäläinen and Riitta Taarasti. Due to the release of Library Channel, the radio- and video productions of different libraries have been centralized to a single website, where all programmes are easily found, utilized and shared. Librarychannel.fi's properties are constantly being developed along with its video production.
Library Channel is being produced by funds granted to Libraries.fi by Ministry of Education and Culture.

Accessibility Statement
Welcome to the accessibility statement of the National Development Services of Helsinki City Library. This website is subject to the Digital Services Act, which requires that all public sector online services in Finland are accessible.
This accessibility statement applies to the website kirjastokaista.fi as of 23.4.2020. The accessibility of this digital service has been assessed by Annanpura Oy.
Accessibility status of the digital service
Meets critical A & AA requirements.
Inaccessible content in the digital service (according to WCAG criteria)
The site contains embedded video footage using third-party video players, which may not be fully accessible, e.g. some alt-texts may be in English. Videos released before 23 September 2020 are mostly without subtitles.
The map view shown on the program page may not be fully accessible. The Accessibility Act does not cover maps, map services and map applications.
Did you notice any accessibility deficiency in our digital service? Please let us know and we will do our best to rectify it
Please use this online form for accessibility feedback.
You can also send your feedback by e-mail to toimitus@kirjastot.fi.
Supervisory authority
If you notice any accessibility issues on the website, please leave your feedback first with us, the administrators of the website. The answer can take up to 14 days. If you are not satisfied with the answer you have received, or do not receive a reply at all within two weeks, you may file a complaint with the Regional State Administrative Agency for Southern Finland. The agency website provides detailed information (in Finnish and Swedish only) on how to file a complaint and how the issue will be handled.
Contact information of the supervisory authority:
Southern Finland Regional State Administrative Agency
Accessibility Control Unit
http://www.saavutettavuusvaatimukset.fi
saavutettavuus(at)avi.fi
Telephone (switchboard): +358 295 016 000